Greenway Hyundai Canned Food Drive Tuscumbia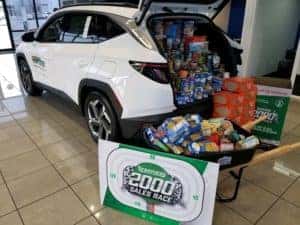 Greenway Hyundai Canned Food Drive Tuscumbia
Feeding Neighbors in Need:
Each year, we supply 8.9 million pounds of food to homeless shelters, food pantries, soup kitchens and children's programs across 11 counties in North Alabama. Together we feed over 80,000 people at risk of hunger.
Backpack Programs:
We partner with companies and churches to provide weekend meal kits to students who depend upon school meals and may go without when school is closed. The kits ensure children arrive to school Monday morning ready to learn without the distraction of hunger.
Greenway Automotive and Greenway Hyundai have been serving the public for over 25 years with a strong commitment to the community. Starting this year, we are out to donate 500,000 meals to our local food pantry The Meal Barrel Project a partner of the North Alabama Food Bank. The Meal Barrel Project feeds close to 2000 families per week, 3 meals per day. With your help, our donation will feed these families for over 2 months.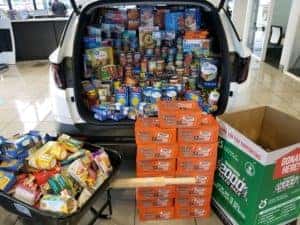 – Nearly 1 out of every 4 children in North Alabama live at risk of hunger.
– Nearly 60,000 children in North Alabama go hungry each day.
– This is because there is not enough money to buy 3 meals a day.
– Hunger is here in our own very backyard.
– The Meal Barrel Project feeds close to 2,000 families a week.
– Due to economic distress, people are seeking charitable food assistance in North Alabama
They are looking for items like this:
*Nonperishable Foods
*Comfort Foods
*Baby Supplies
*Hygiene Supplies
*Baby Diapers
*Paper products
*Cleaning Supplies
Greenway Hyundai of The Shoals | 122 US-43, Tuscumbia, AL 35674 |  (256) 766-6117
Visit Us On Facebook